Salesforce Billing – Credit Notes
Credit Notes, just like
Debit Notes
are used for invoice adjustments. However, as opposed to the Debit Notes, they adjust the invoice balance in favor of the buyer by decreasing the amount of the
invoice
.
The Credit Note mimics the data model of the Debit Note. So, the Credit Note acts as a bucket for Credit Note Lines that contain the actual amounts for the adjustments. The workflow follows the same steps: a Credit Note is created from the Credit Note tab or from the Related List on the Account, then Credit Note Lines are created defining the amount and associating it to a specific product, then the Credit Note is posted and finally, the Credit Note Line can be allocated against specific invoice lines.

Note that only Invoice Lines with balance will show up for the allocation process because you can't allocate a credit against a fully paid invoice line. However, if you want to do that, you should unallocate the payment first, and only then you'll be able to allocate the Credit Note Line against that Invoice Line. As with the Debit Notes, by clicking the Allocate button at the end of the allocation process, a Credit Note Allocation is generated automatically.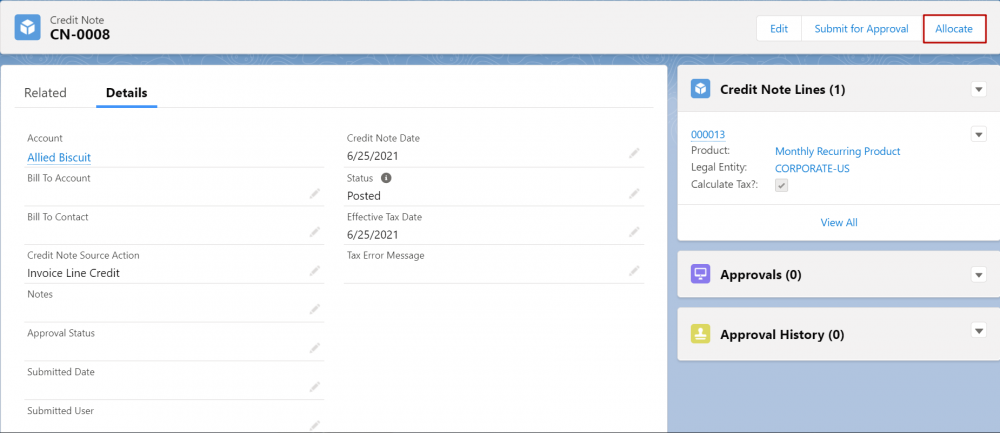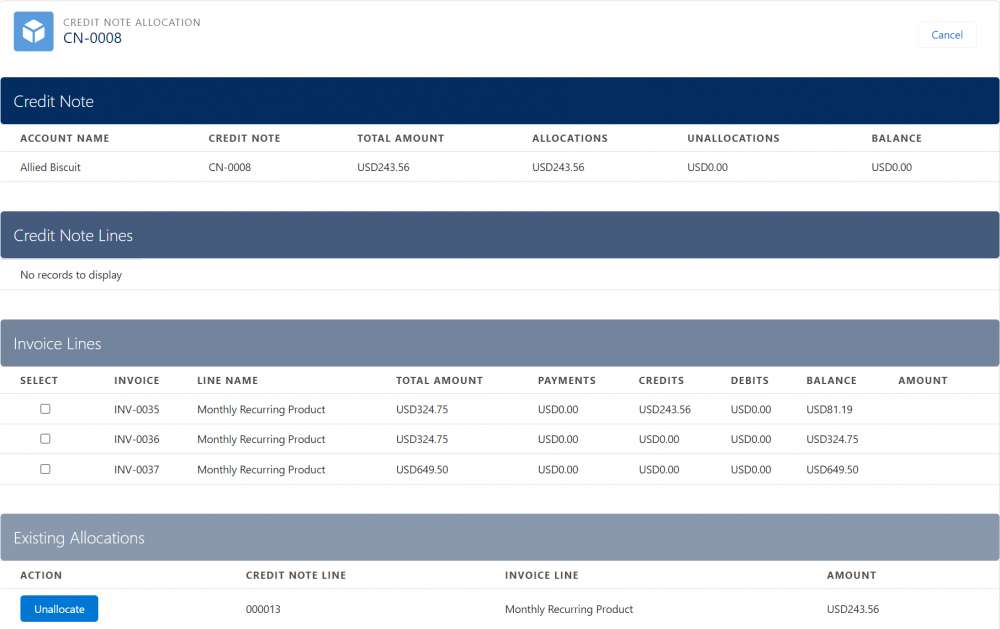 Credit Button
Sometimes it is necessary to quickly credit off an invoice that the customer doesn't want to pay without going through all the steps outlined above. In order to balance the book, we can use the Credit button on the invoice and generate the Credit Note equal to the Invoice's total balance, the Credit Notes Lines, Credit Note Allocations for every single Invoice Line on that outstanding invoice.

The Credit Button is working only if the invoice is posted and the balance is greater than zero because we can't credit off an invoice that has already been paid. If this is still necessary, we could unallocate the payment first and only then click the Credit button. Note that the Credit Button doesn't revert order products to their previous next billing dates as it's the case with the Cancel and Rebill button.